5 of the UK's Best World Heritage Day Sites
This Wednesday 18th April 2018 marks World Heritage Day. This day is, in fact, called The International Day for Monument and Sites. Established by the International Council for Monuments and Sites (ICOMOS) in 1982, the day was created to encourage us to celebrate and preserve monuments and sites across the globe that are historically and culturally important. Since its inception, the organisation itself has garnered an impressive 10,000 members across over 150 countries.
To make this special day, we at Simplexity wanted to showcase some of the best World Heritage sites in the UK that you can visit and explore yourself. So, why not book a long weekend trip and see some truly inspiring sites right here in the UK?
Stonehenge
You may have guessed that this would feature in the list, and because we never like to disappoint, we decided to choose it as our first. 
Instantly recognisable, Stonehenge is a prehistoric monument in Wiltshire, England. Consisting of a ring of standing bluestones, each around 13 feet high, 7 feet wide, and weighing a hefty 25 tons (approximately), Stonehenge is considered a British cultural icon. Because of this, it was added to UNESCO's list of World Heritage Sites in 1986.
Travel: 1h 57mins drive from London via M3 and A303. The nearest train station is Salisbury, and there are also several coach tours specifically for Stonehenge.

Castles and Town Walls of King Edward in Gwynedd
Wales has a great many castles, all of which are worth a visit, and these are arguably some of the best. Covering Beamaris, Caernarfon, Conwy, and Harlech (to name but a few), these castles were built during the reign of Edward I of England (1272-1307). They're considered something of a pinnacle of military architecture, and really encapsulate one of the most intriguing times in British history. 
Conwy Castle, in particular, is a medieval fortress of almost fairytale proportions, and UNESCO considers Conwy to be one of "the finest examples of late 13th century and early 14th-century military architecture in Europe".
Travel: Trains from London Euston can reach Bangor (Gwynedd) in 5 hours.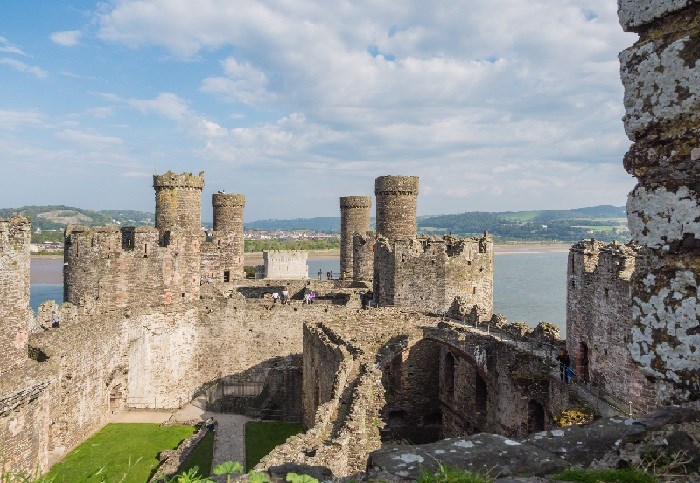 Giant's Causeway
Located to the very north of Northern Ireland, is the Giant's Causeway. The causeway is made up of 40,000 basalt columns projecting out of the sea, although legend has it that it's the remains of a causeway built by the Irish giant Fionn mac Cumhaill. As one of the world's greatest natural wonders, the Giant's Causeway was declared a World Heritage Site in 1986 and a national nature reserve in 1987.
A visit to the hexagonal stones, combined with the breath-taking landscapes and a torrid sea, makes this truly something everyone should see at least once in their life.
Travel: Fly from London City airport to Belfast City, then a 1.5hr train ride and a 28min bus will get you there in a total of 7hrs 18mins.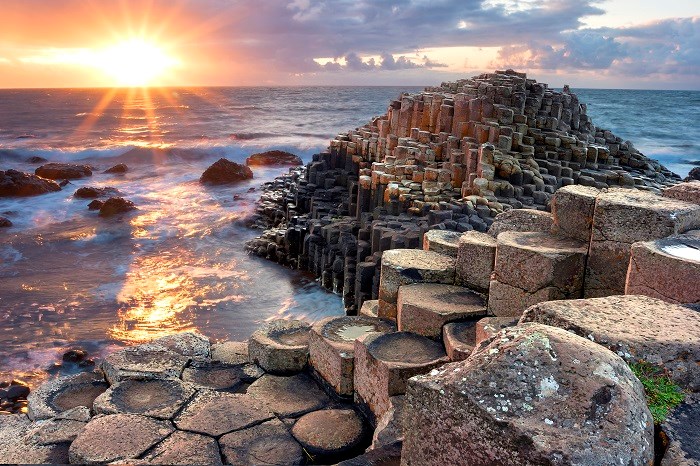 The Lake District
There is nothing quite as beautiful as England's Lake District. Famous for its scenic landscape of mountains, lakes, houses, gardens, and parks, the Lake District was celebrated through picturesque and romantic visual arts and literature from the 18th century onwards. 
Covering around 912 square miles, the Lake District will forever be associated with William Wordsworth, Beatrix Potter, and Swallows and Amazons. Take a trip here and you can easily see why it's inspired so much art and literature.
And if you're more of the physical type, then the area is ideal for hiking, mountaineering, and sailing.
Travel: Virgin trains from London depart for the Lake District every 2hrs and will get you there in around 2hrs and 38mins.


Hadrian's Wall
Included in The Guardian's hot list of places to visit, Hadrian's Wall (also known as Frontiers of the Roman Empire) was built in 122 AD to defend the Roman Empire from "barbarians". The World Heritage Site was previously listed as Hadrian's Wall alone, but this was later expanded to include the Antoinine Wall in Scotland.
At 118kms long, Hadrian's Wall is a great place to go hiking, following along the stones. The natural beauty of Cumbria's scenic landscapes makes any journey along the wall an absolute pleasure, with a wealth of rolling hills on both sides of the construction.
Explore bathhouses, turrets and shrines, visit galleries and museums and watch live excavations uncover fresh details of ancient Roman Britain before your eyes. However you discover it, Hadrian's Wall is a unique, must-see monument and a remarkable place to experience. 
Travel: A 6hr 12min drive from London or 3.5hrs by train.

Simplexity Travel Management can help orchestrate your entire travel plans, working to an itinerary of your choice, whichever World Heritage Site you choose.
From planning travel to the airport and flights, through to luxury hotel accommodation and restaurant bookings, let a Simplexity Travel Manager take everything on, leaving you to enjoy your experience worry and stress-free.
To start planning your World Heritage Day adventure, contact leisure@simplexitytravel.com or call 0203 535 9290.