At Simplexity, our Travel Managers are dedicated travel experts who love exploring the hottest new destinations and testing out brand new experiences.
In September, Our Travel Managers went to Abu Dhabi to keep in touch with developments in hospitality in one of the world's fastest growing (and most luxurious) leisure and business travel destinations.
Local Knowledge
One of the best things about being a luxury Travel Manager at Simplexity is getting out there to find great new experiences for our clients.  At the end of September, I set off on a five-day journey to Abu Dhabi.
Abu Dhabi is an increasingly important destination for our clients. More and more airlines are opening up regular flights to the United Arab Emirates from smaller and smaller airports in the UK. Dubai, for example, really is a top luxury leisure destination at the moment.
The region is increasingly popular as a place to do business, too, so staying on top of Abu Dhabi's luxury, high-service, corporate travel hotels is very important at the moment. This ensures we know exactly which rooms to book for clients who need to be able to focus solely on their business when they land.
Travel and Arrival
The best way to know your client's needs at the end of a flight to Abu Dhabi International Airport is to fly to Abu Dhabi International Airport!
The flight from London Heathrow was seven hours long, landing at 1am. Within an hour of hitting the runway, I was checked in at the beautiful Ritz-Carlton Abu Dhabi Grand Canal.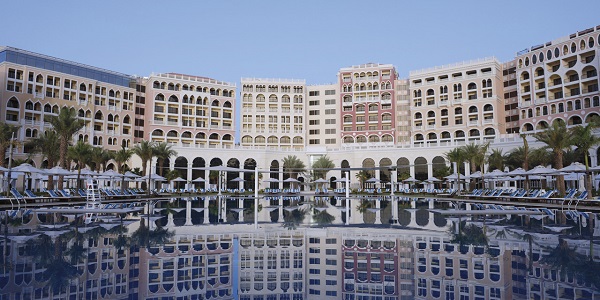 A great night's sleep is pretty much assured in such a luxurious, high-service hotel. In the morning, as the sun came up, it revealed a stunning view of the famous Sheikh Zayed Grand Mosque. After some sleep, I explored to stunning features of the hotel. The elegant interiors are styled on fine Venetian architecture. Its 57 acre grounds are fit for a Doge with their manicured gardens and formal Italian features. The luxurious suites follow suit though with a decidedly modern twist with calming neutral tones and sleek Italian furniture.
Day 1
After an excellent breakfast at the Ritz-Carlton, the first stop had to be the Grand Mosque. Like the Parthenon, this impressive mosque with its fantastic 82 domes – including one 85 meters high – has an ability to appear simultaneously huge and weightless.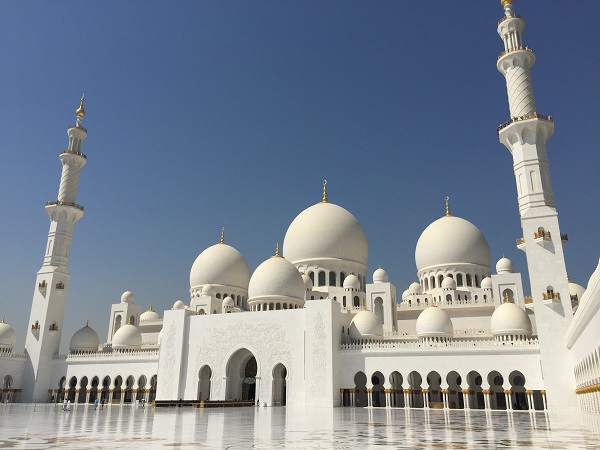 It was first opened to worshippers in 2007 but really comes across as timeless. It really is an excellent piece of architecture with breath taking interiors.
After this incredible visit, I went out to inspect the St Regis Saadiyat. This recent St Regis resort was opened in 2011. It is one of a whole raft of leisure and hospitality developments taking place on the islands off the coast of the Arab Peninsular (read on for another!).
I was very impressed with the St Regis Saadiyat. It is a big complex, with 377 rooms and suites. Impressively, all of these have balconies. There are five swimming pools, a championship golf course and an incredibly attentive signature butler service. It's only 20 minutes from the airport, too, which is something I think our clients will really appreciate.
Next was the Etihad Innovation Centre. Since a large part of our jobs as Travel Managers is booking flights, it was important to see what Etihad Airways has in the pipeline. It was fascinating to hear about the different innovations going on at the company, and we had an opportunity to explore their on-ground replica of an A380 aircraft with its luxury three-room suite in the sky 'The Residence'.
Day 2
After a lot of inspections, my second day was a chance to explore. I headed into the desert, The Emirates' euphemistically named "Empty Quarter", which is of course the Rub' Al Khali, the world's largest contiguous sand desert.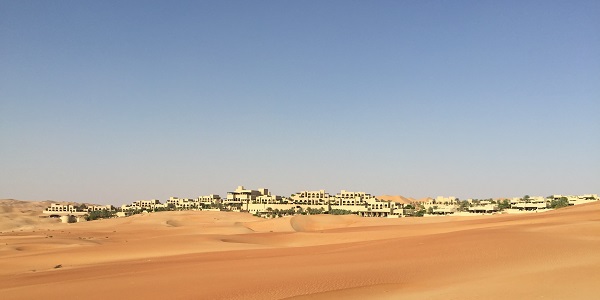 It isn't all empty, of course, and after an hour I arrived at Qasr Al Sarab, a luxury desert resort that feels like a true oasis after an hour of sandy roads. Away from the city, the overwhelming feeling here is of mystical desert calm.
I was well spoilt for lunch choices with four restaurants open. The huge pool was a welcome relief from the desert heat. There wasn't time to try the Anatara Spa's many services before sunset, and a desert sunset is something I can never bring myself to miss.
Day 3
This was the day that I got to fulfil a long-term dream: going dune bashing! I have to say that it absolutely lived up to my expectations. There's nothing quite like throwing a 4×4 around the desert, bombing up and down the dunes of the Rub' Al Khali. I had to get up at 5am to avoid to desert heat, but a few hours' sleep was small sacrifice for so much fun!
The best thing was that this wasn't the extent of the day's driving adventures. After a trip north along the E65 I arrived at Yas Island – another one of those leisure islands I mentioned earlier.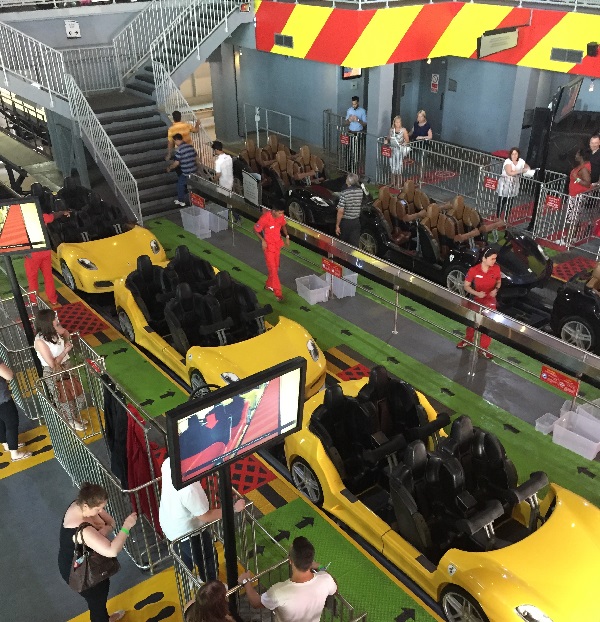 Yas is home to Ferrari World Abu Dhabi, the world's largest indoor theme park. The scale of the iconic tri-pointed canopy is incredible. Inside there are rides, shops, place to eat and drink. Yas Island also has a bona fide race course too, the Yas Marina Circuit.
Above this track floats the iconic Yas Viceroy hotel. The hotel is huge. Each one of the 500 rooms over looks either the beautiful marina or the ractrack below – or both. Plus there are 11 restaurants and two rooftop pools. This is an incredible place to stay for racing fans or otherwise.
I had an incredible time around Abu Dhabi and I can't wait to share what I've found with our clients. If any of these experiences or locations sound like ones you want to try, call me today on 0203 535 9290, or email info@simplexitytravel.co.uk.