In October 2015, Simplexity Travel Manager Anna Magana was invited to the beautiful medieval town of Kitzbühel, Austria, by the Kitzbühel Tourism Board.
Our travel managers are always excited to scout out new destinations and experiences for our clients. Anna spent three days exploring the picturesque Alpine community, finding beautiful sights, exceptional hospitality and wonderful people along the way.
Day One
On an early October morning I set off, equipped with my passport, a lot of excitement and far too many clothes for a three day trip! It was unusually warm in London last October, and I wanted to be ready for anything at the other end.
I was lucky enough to be flying out of London's newest terminal, The Queens Terminal in Heathrow. The terminal play's host to Star Alliance airline partners, one of whom is Lufthansa, who I was flying with. Before take-off I got to enjoy their wonderful lounge – as far as I am concerned, the perfect way to start ones holiday is sitting in a lovely lounge (like Lufthansa's), overlooking the runway, in a comfy chair with a drink in hand.
The inflight experience was terrific too. Lufthansa's new business class is excellent, with truly great food, improved seats and an exceptionally friendly service.
On arrival, the Kitzbühel Tourism Board organised my transfer from Munich. Four Seasons Travel delivered me safely from Bavaria to the Austrian Alps. It took less than three hours, but felt like less as the friendly driver filled me in on the local area.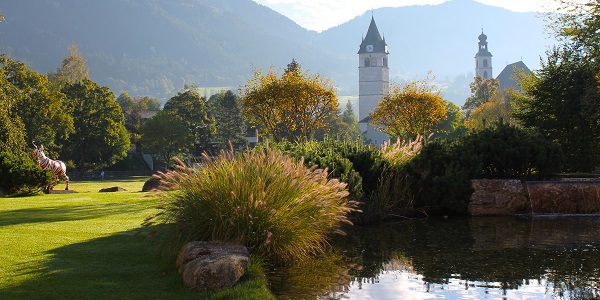 I checked in at the Hotel Kitzhof Mountain Design Resort. Design hotels are known for their modern interiors that boast artistic flourishes and the Kitzhof edition struck the perfect balance between contemporary fashion and the charming local Tirolian style, heavy with woods and natural fabrics.
I had beautiful views over the town and the Alps behind – this really is a stunning place. The room itself was very cosy and exactly where you'd want to sleep, in the middle of an Alpine winter. The spa had an indoor pool and gym overlooking the mountains, perfect for that extra little bit of motivation in your workout.
I had a treat from my host, Veronika Kleiner, when, at dinner, I got to see a traditional Tirolean Schuhplattler dance.
Day Two
In the morning I met Isabella Kortschak from Element 3. She took me out to see the incredible countryside I saw from my bedroom window. The best way was to jump right in to it, so we took some e-bikes and rode into the mountains. If the mountains looked beautiful form the town, the town certainly kept up its side of the bargain, looking impossibly pretty nestled in the hills.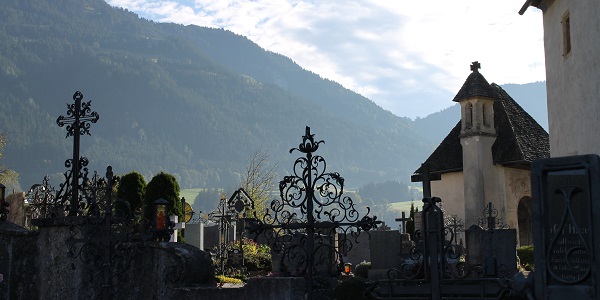 Up the mountains, we arrived at a hut where we ate lunch and drank with Austrian football star, Wolfgang Feiesinger. After, I took the opportunity to visit some five-star hotels in the area.
Kempinski Hotel Das Tirol is a fantastic ski-in hotel, spa and resort that caters to highest of standards. The spa looked state of the art, with a huge range of treatments and 12 treatment rooms. Although it was getting chilly in October, upon seeing the outdoor pool, nestled at the bottom of a pine-covered hill, I could imagine being quite content sipping drinks there on a hot summer's day.
I also checked out the Grand Tirolia Kitzbühel and the A-Rosa Hotel:  two beautiful ski and spa resorts.  The first boasted an impressive golf course and the second had breath-taking architecture, reminiscent of a proud old castle.
When I was done exploring, we went to the town's hilltop by cable car (Lufthansa's frequent flyers can use their air-miles to buy a ticket). Here I was delighted to be taught how to properly yodel in the Tirolean style. We also saw the Shreif- Kitzbühel, the most terrifying downhill ski run in the world, home to the annual Hahnenkamm Downhill.
Day Three
For me, no trip is complete without checking out the local food, so I went to the farmers' market on Saturday morning to find some treats to take a piece of Austria back with me.
There was so much to choose from: the specialist wursts you can find across most German speaking markets as well as the crazy selection of cakes, Austria has long been known for developing during the Hapsburg era.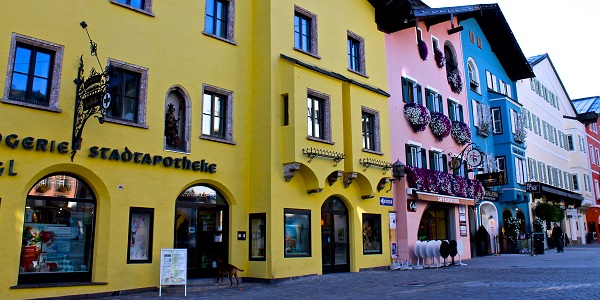 Element 3's Isabella made me very happy when she gave me the choice of river canoeing, a lakeside Segway tour or a mountaintop paragliding session. As a keen bungee jumper and skydiver, I had to choose the paragliding.
I was quite gutted when we found the wind too strong to take off that day, but that's all part of the adventure with extreme sports – especially in the mountains! It tempted me to stay another day or two, but unfortunately it was time to go back home.  I hiked through the mountains and past the beautiful lake on the way back to the hotel – a great way to say goodbye.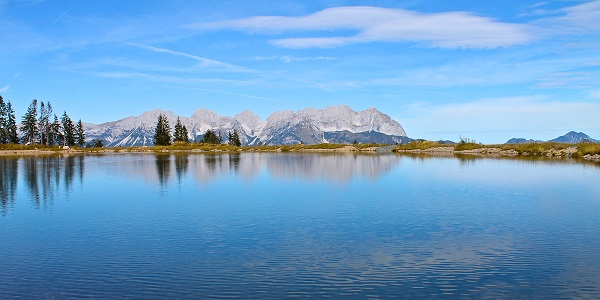 I want to thank everyone who looked after me in Kitzbühel, I had an excellent time and can't wait to give my experience to our clients!
To arrange your own Austrian getaway, contact our Travel Managers today on 0203 535 9290 or email info@simplexitytravel.com.