Perfect isolation leads to a level of calm and serenity you cannot attain when you are surrounded by people. Our Private Travel Manager, Mark Smith knows his way around the world's best private islands. You might never have given much thought to staying on your very own private utopia, but our Travel Managers can book your very own chartered flights, arrange your stay and guarantee that your island retreat is as perfect as can be. Sit back, relax and allow us to introduce you to your new island paradise.
Singer Castle on Dark Island
The first resort on our list is something unique. It is a sprawling medieval-style retreat called Singer Castle on Dark Island. The island is in the St. Lawrence Seaway in the United States, and is only accessible by boat. We can arrange your short river voyage to this special place, and from there you will experience the wonder of the castle.
The castle itself was constructed in 1905, where it was owned by the Bourne family until the mid-1960s. Originally, it was resided in during the hay day of the great builders' and industrials in New York, and was in fact the only ever completed castle along the St. Lawrence Seaway.
Be the King or Queen in The Royal Suite for an evening and lounge around an entire wing of the castle. With an incredible bedroom featuring a Californian King-sized bed that overlooks the American channel and the south boathouse, you will be amazed by the stunning views and the historic, immersive atmosphere.
Necker Island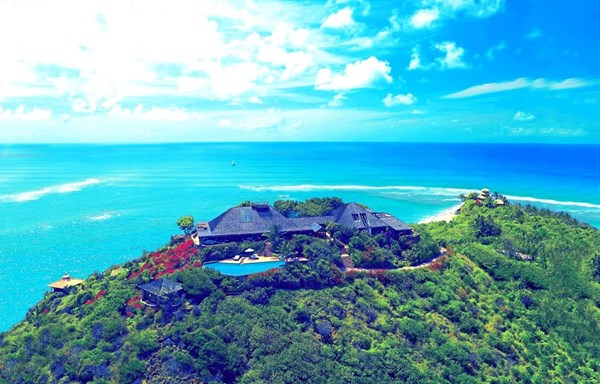 If you want exclusivity, nothing can be more exclusive than Necker Island. Sir Richard Branson's own tropical island paradise in the British Virgin Islands, Necker Island is the perfect place to get away from it all, along with up to 33 of your friends. Allow one of our Leisure Travel Managers to arrange your helicopter flight and we will deliver you safely to the unspoilt beauty of Necker Island.
The team at Necker Island offer some of the best, most personable service in the world, and train local people to work at the resort. Allow the island's head Chef, Clement Baris, to prepare you dish after dish of delicious fish straight from the ocean, explore the island (which is even home to a flock of flamingos!), and then retreat back to your very own lavishly decorated room. We cannot think of a better place to wake up in the morning.
The Islands of Copperfield Bay
When the only other guests on your own island are chosen by you, you know you are surrounded completely by your friends. This is the luxury offered on the wonderfully beautiful 700-acre Islands of Copperfield Bay. Set amongst the 365 islands that make up the Exuma in the Bahamas, this is one of the most secluded spots on Earth.
With the capacity to host you and 23 of your other guests, you, your friends and family will have all of the time in the world to enjoy each other's company in this serene, magical place.
Choice is endless at Copperfield Bay. You can do nothing at all, or you can get out and enjoy an action-packed experience. From a guided snorkelling tour, to a play on the Jet Ski, or a picnic by moonlight, you can pick and choose the activities that suite you best. It is all there waiting for you as soon as you step foot on this incredible island.
The Maldives, The Rania Experience
In the local language of Dhivehi, the name "Rania" comes from the word "Rani", meaning "queen", and there is no doubt that you and 11 of your friends will be treated as royalty while you enjoy everything this small island has to offer.
With an experienced, professional staff of butlers, internationally trained chefs, a PADI diving instructor, therapists and a remarkable hot tub, you have everything you need to experience complete relaxation. Allow our Travel Managers to arrange your private flight and be met by one of your private butlers who will show you the best features of the island.
Laucala Island
Located in the South Pacific, Laucala unites dramatic rainforest landscape with white sandy beaches and crystalline ocean. With 25 Fijian-styled villas set in amongst the coconut plantations, Laucala is perfectly situated over 1,400 hectares which means you've got plenty of exploring to do before you come back to your villa to rest in this peaceful, tropical destination.