Choosing a venue for your business meeting is an important choice. As well as an opportunity for making a great impression, the place you hold your conference sets the tone of the whole event.
But choosing the right setting takes time and research: resources you would rather be using on making sure the meeting itself goes perfectly. That's why our Corporate Travel Managers, have created this list of the best conference venues in Europe's biggest business capitals.
Villa Magna: Madrid, Spain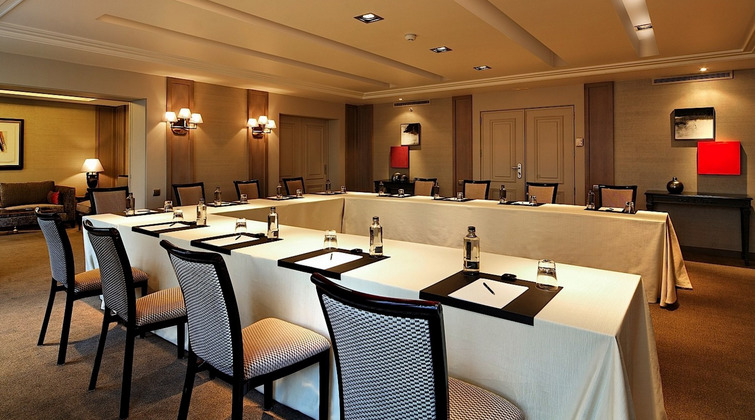 The Villa Magna is an elegant hotel in the heart of the Spanish capital. Easily accessible by the city's subway network, the establishment is perfect for meeting clients or holding a conference.
The hotel itself can play host to over 700 people, and has eight meeting rooms as well as a gallery, all of which boast modern technology throughout to really enable your meeting or event to run as smoothly as possible.
The rooms are stylish, spacious and modern and the hotel's fantastic amenities include spa and sauna access – the perfect place to retire to after a great day of talks.
Landmark London: London, UK
Landmark London is a luxury hotel with a truly regal feel. Quintessentially English in nature, the Landmark is the perfect place to host a meeting or conference when in this global hub for financial and professional services.
There are a total of eleven rooms to choose from, with a capacity of up to 750 people. Private dining for up to 36 people is also available, and if you opt to stay in the establishment you will not be disappointed.
The Landmark is home to both suites and rooms, all decorated in fine creams and ornate furniture:  a heavier, more opulent experience than Madrid's Villa Magna. With excellent connection from Paddington and Marylebone, The Landmark is the perfect place to meet if you're looking to impress.
Sofitel Munich Bayerpost: Munich, Germany
Our next entry on the list is located in Munich, Germany. Situated next to Munich's main major rail station, The Sofitel Munich Bayerpost Hotel has exceptional meeting facilities ready for you when you do business in Bavaria.
There are two sleek boardrooms, each with space for 16-60 people. Each room is soundproofed and fitted with innovative technology and décor for a streamlined meeting experience. Cleverly, both rooms have access to a lounge area, providing a great withdrawing area for recesses and breaks. There's also an area for breakfast spreads and lunches.
After the meeting, the Hotel's So Spa is an excellent place to wind down after a day's work. The hotel has three restaurant/bars to celebrate sales or entertain guests, and the suites are characteristically modern with sharp edges, sleek curves and bold colours.
Hotel Du Louvre: Paris, France
The five star Hotel Du Louvre is close by the Louvre art gallery. The visual impact of the famous landmark in Pars' beautiful centre is a sight sure to make an impact on your clients. The hotel holds its own in this fine company, with an historic exterior that is a sight to behold.
Hotel Du Louvre has 8 meeting rooms.  The principal room is home to beautiful panelling and refined furniture to impress employees and clients alike. The old Parisian splendour is augmented with all the technology the modern businessperson needs.  The hotel can also cater you event for all parties' convenience.
Hotel Du Louvre boasts 177 rooms and suites. Of all the hotels listed, these interiors are the most stylish. Simultaneously elegant and warm, the rooms boast outstanding views of Paris and unrivalled access to the Louvre after businesses has concluded.
Sofitel Hotel: Brussels Belgium
The Brussels edition of the Sofitel Hotel chain is just as inspiring as the one in Munich. The fresh and modern décor will appeal to all audiences, and the meeting and conference facilities can cater are flexible with adaptive staff.
The Sofitel Brussels is ideally located for doing EU related business. It is this that makes it a great place for conferences. It is extremely close to Espace Leopold, the seat of European Parliament, and so has tremendous access to all the supranational infrastructure of European business. The area acts as a hub for business, trade and politics in the EU.
To have all your meeting venue needs taken care of with expertise and attention, contact Business Travel Manager Anna today 0203 535 9290 or email info@simplexitytravel.com.