With its liberal outlook, glorious nightlife and world-beating music and arts festivals, Lisbon, Portugal's capital, is now one of Europe's most pursued destinations.
There's never been a better time to visit this transforming European capital. So why not find out how to do it best. Here, we'll give you the secret tips you need to avoid the tourist traps, find the most luxurious, one-off experiences and live Lisbon like a local.
Unique Lisbon experiences
With its hills, nearby national park, large bay area and colourful buildings, Lisbon is ripe for a helicopter tour. Travel by air and touch down for a champagne lunch at the Palácio de Seteais, a 5-star hotel in nearby Sintra. It's the perfect way to fit this entire town into one weekend.
Seeing how stunning Lisbon is will make you itch to take perfect holiday pictures. For a truly special experience do this as part of a guided photo tour with professional photographer Artur Lourenço. It's a great way to find all the hidden beauty spots with a man who understands the city intimately. From the old buildings of Graça to beautiful art deco streets, Artur will help you take the holiday snaps that belong on your wall.
You've probably not been to an aquarium since you were a child. Well now is the time to rekindle that love for the real treasures of the oceans. Back in Parque das Nações is Oceanário de Lisboa, Europe's most exciting aquarium where you'll see everything from penguins and jellyfish to cute little otters. It may not be what you expect when you come to Lisbon, which is why we are recommending it.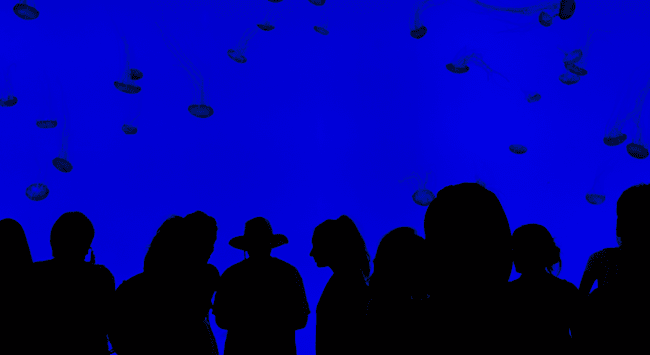 The must-see neighbourhoods
If you like to get a sense of history in the place you're staying, you should check out these two neighbourhoods: Alfama and Parque das Nações.
Alfama is Lisbon's oldest district (or bairro). It used to be the extent of the city, but it is now a poor part of the wider city with an irresistible old-world charm. The steep hills and narrow streets will remind you of a small Tuscan town hidden away in the middle of Portugal's thriving capital.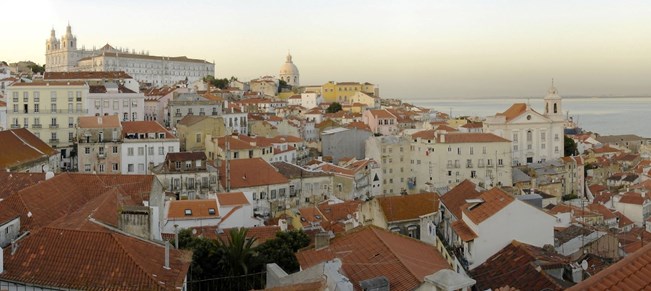 Then, only two train stops away on Linha de Azambuja, is Parque das Nações, an ocean-side district of Lisbon that feels about 2,000 years away from its little old neighbour. The area was chosen to hold the World Exposition in 1998, and was transformed into a glittering ideal of modernity, with amazing parks, planned walkways and the futuristic Vasco de Gama Tower looming over everything.
Visiting these two areas in one morning will give you an incredible insight into Lisbon's identity. Make sure you try the incredible cable cart that runs along the coast for scenic views of the city and the bay area of Rio Tajo.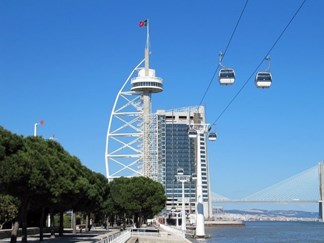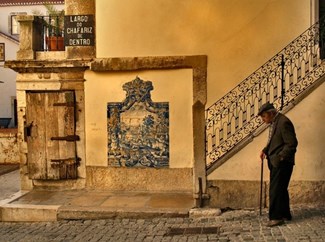 The coolest places to stay 
The clear winner here is Bairro Alto Hotel. It's in the middle of town, has great connections and will place you alongside the friendly local socialites of Lisbon. The streets are a wonderful mix of uniform features (think pastel colours, 19th century lanterns and iron balcony railings) and vibrant street art, giving each road its own identity.
The hotel is on the boarder of historic, pretty Bairro Alto and the chic, cultural and trendy Chiado. A terrace bar has views of the river and is a good place to eat breakfast or enjoy the view of the sun setting over the Atlantic Ocean.
Closer to the riverfront than Bairro Alto Hotel, Pousada de Lisboa overlooks the beautiful Praça do Comércio, a grand plaza on huge scales with a magnificent marble arch. Just around the corner is Chiado Museum, home to Portugal's famous contemporary art.
For an alternative neighbourhood, stay at Olissippo Lapa Palace. Located in the noblest neighbourhood of Lisbon – right in the city centre – this old palace is perfect for the modern visit with class. Its elegant vibe attracts celebrities and politicians the world over. Make sure you try lunch at the Lapa restaurant: Lisbon is famous for its seafood and this is the place to try it.
Jump into Lisbon's food culture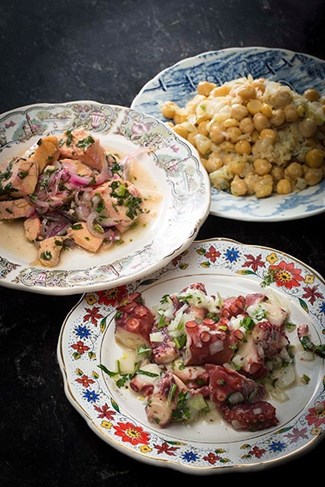 When you think of Portuguese food, you have to think of fish. And that's certainly what you'll get in this contemporary, trendy restaurant: fish in its freshest, finest, most exciting form.
This is a place you can come for a quick drink and seafood snack by the bar or sit down for several rounds of Atlantic and Mediterranean delights. But as if that wasn't enough, it also has a sushi bar where the freshest fish is turned into Lisbon's best sushi.
For the full Lisbon food experience, head to oldest fish market in Europe. It's not all fish, we promise. Full of small pop-up spaces filled with big name restaurant brands, the market is a communal covered dining area surrounded by independent kitchens all using the freshest ingredients in town.
If you've had enough fish, get the sirloin steak from Café de São Bento or find what inspired the South American love for beef and bread by ordering a juicy steak sandwich from the famous Ramiro. Wash it all down with local beers from other stalls. Perfect.
Feeling like Lisbon might be the perfect place to spend a weekend away? Speak to one of our Travel Managers today on 0203 535 9290 or email us on leisure@simplexitytravel.com.
We can help you design your perfect long weekend away, and with our massive supply of partners across Lisbon, and our membership to the Virtuoso network of hotels, we guarantee to fill your holiday with one of a kind, memorable experiences.