When people think of Sri Lanka, it is often the beaches or cricket that spring to mind first. But Sri Lanka is a destination which ticks every box that need ticking on a holiday. It may seem a small island, but Sri Lanka sure packs a punch. From the golden beaches that encircle the island to the multitude of flourishing National Parks, ancient ruins and colourful temples scattered throughout its jungle interior – it seemingly has it all. Whether you kick back at one of the popular beach resorts, trek to the pinnacle of Sigiriya Rock or explore further on a touring holiday, Sri Lanka will tend to every need of your holiday proving it is the perfect place for your next family holiday.
A 10-hour 45-minute flight from London Heathrow takes you into Colombo on a direct flight with Sri Lankan Airlines where you will start your trip. We recommend around 3-4 different areas to take in the most of what Sri Lanka has to offer and the best way to get around is by hiring a car and driver for the duration. Your car and driver will be the same driver throughout your trip and will also act as your guide assisting you on local areas and getting from place to place efficiently. The average distance between each main area of Sri Lanka is around 3-4 hours so it is good to break this up over a 10-14-night stay.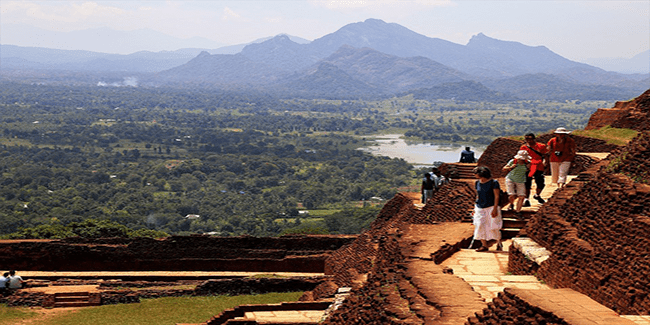 When choosing where to go, most people will want to visit Sigiriya or Lion Rock, a monument of stone rising up at the cultural heart of Sri Lanka, the remnants of an ancient city scattered beside it. The two lion paws at the foot of the rock herald you into the steps that lead to the summit, where once a royal palace stood.
Other top choices include the two ruined cities of Anuradhapura and Polonnaruwa the first and second capital cities of Sri Lanka respectively which are hauntingly beautiful and the Dutch Fort in Galle which is also well worth a visit. Sri Lanka is well known for its Buddhist relics and housed in Kandy in the Sacred Temple of the Tooth is a tooth from Buddha himself. A plethora of National Parks in Sri Lanka allows you to experience the wilder side of the island with the chance to see the elusive leopard. If rolling hills and cups of tea is your idea of heaven, Nuwara Eliya and the surrounding area is ideal. Here you'll find restored tea plantations, colonial mansions and tranquil retreats all nestled within verdant landscape, a serene retreat from the bustle of Colombo and the beaches.
Below we have put together our guide of a suggested Sri Lanka itinerary encompassing the most popular attractions and our suggested hotels.
Cultural Triangle
Jetwing Vil Uyana, Sigiriya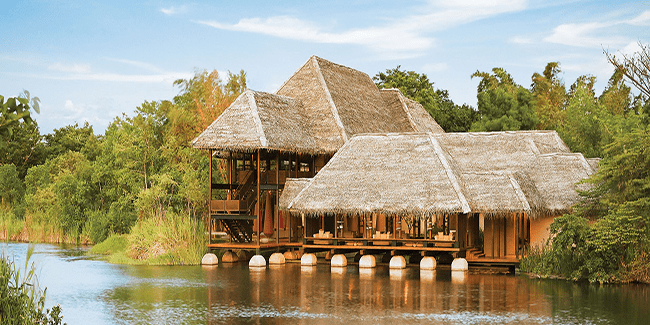 For a luxury experience amongst paddy fields, reed beds and lakes, we highly recommend a stay at the beautiful Jetwing Vil Uyana which is set within a private nature reserve. If seclusion and style are important to you following a climb of the iconic Sigiriya Rock Fortress or exploring ancient ruins, then this resort is for you. There's a mix of contemporary luxury and the simplicity of rural life as well as a real sense of place and space. Night trails, wildlife watching, and birding tours are just a few of the experiences you can enjoy from here which is great fun for the whole family. For those with relaxation on their mind there's also a beautiful spa surrounded by reed beds which provides a wide range Ayurvedic and naturopathy treatments. 
Simplexity Travel Top Tip – Watch out for the monkeys! You may be lucky enough to see them swinging from the trees from your own private balcony giving you hours of fun.
Nuwara Eliya
Heritance Tea Factory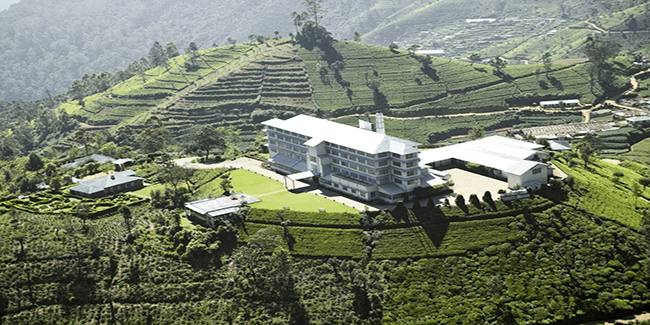 From the moment you arrive, you'll be swept up in the history of the Heritance Tea Factory which is part hotel, part museum. Original features are still on display within this incredible building which was transformed into a hotel amidst rolling hills covered in tea. During a stay here, you can really immerse yourself in your destination by plucking your own tea and watching its journey through the mini tea factory. Once made, you can take some home as a souvenir! Other activities on offer are nature treks and waterfall visits.
The beautiful Kenmare Restaurant, where all your included meals are served, was once the sifting room of the factory. Today you can dine on local and international dishes surrounded by the original iron works, and old tea crates are used as serving stations. Heritance Tea Factory is ideal for a family holiday and feature children facilities such as babysitting, a playground, and special menus catered for the younger children.
Hatton
Ceylon Tea Trails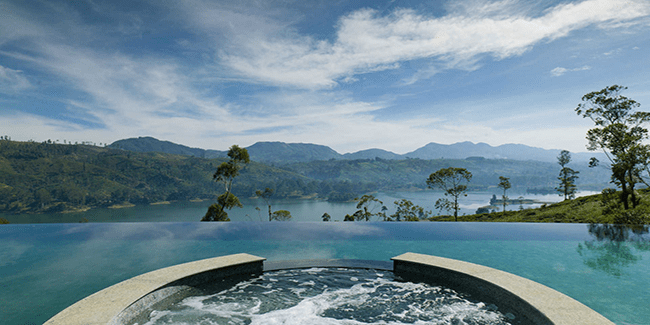 Made up of a collection of colonial tea planters' bungalows linked by trails that weave through beautiful tea gardens, this unique property provides a slice of Sri Lankan tradition and heritage. As you make your way to your assigned bungalow, all of which are set deep in the spectacular Bogawantalawa Valley in the island's Hill Country, you can't help but feel you've arrived somewhere special. Each of the five unique bungalows plays host to Luxury Rooms, Garden Suites and resplendent Master Suites. Each room and suites are full of character and charm, as well as antique furnishings – think roll-top baths and four-poster beds. And it is in your room that each day begins with a tradition 'bed tea' brought to you by your butler who is also on hand from morning until night to attend to your every request.
This is a place for guests seeking serenity and perhaps for those who also wish for a little light adventure, with Scenic Walks and Hikes available right on the doorstep. Also, on offer for families are White Water Rafting, Tennis and Mountain Biking.
Yala
Wild Coast Tented Lodge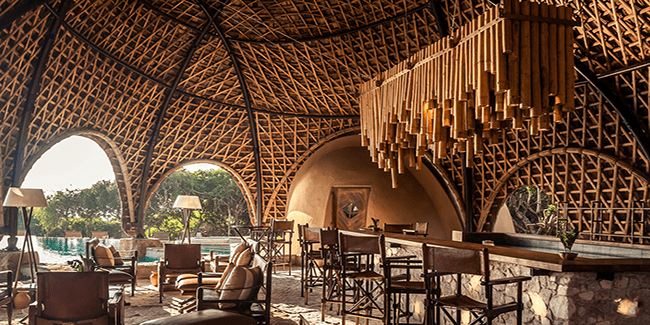 This is Yala, the southernmost point of Sri Lanka, an untapped wilderness where leopards slink in the night and elephants thunder during the day. Yala has the highest density of leopards of anywhere in the world. It has remained off the radar for so long because there really wasn't anywhere that comfortable to stay. Tents and simple guesthouses were the only things on offer for a long time. Wild Coast Tented Lodge which recently opened on 1 November, is the most extraordinary lodge and has brought a whole new accommodation age to Yala. From the team behind the highly elegant Ceylon Tea Trails comes an architectural anomaly, 28 arching cocoon-like suites, with freestanding copper bathtubs, serious bed linens and plunge pools.
After a wonderful day searching for leopards and elephants, return to the shore lined rooms listening to the ocean and nestle yourself down ready for a night of stargazing. There is truly nowhere smarter in this national park to lay your head.
Tangalle
Anantara Peace Haven Resort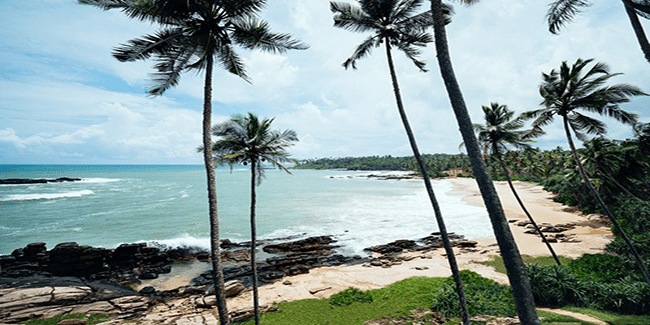 The last stop on our trip is the beautiful Tangalle which is set at the heart of Sri Lanka's south coast. Approximately two hours from Galle and an hour and a half from Yala National Park this region makes the perfect place for a relaxing stop on an exploration of southern Sri Lanka.
The Anantara Peace Haven Tangalle Resort is scattered throughout 21 acres of tropical gardens and is fronted by a secluded beach and beautiful rocky outcrop. Whether you are looking for cultural or nature excursions or the chance to explore the local region at leisure you'll be well catered for here. And for those days you want to get away from it all the tranquil Anantara Spa offers both Ayurvedic and reflexology treatments, and there plenty of out of the way spots in which to relax. On-site is a gym, spa, tennis & badminton courts, kids & teens club and gift shop giving plenty of options for the whole family.
What makes a truly great family holiday are the experiences together by learning and laughing along the way. Experiences such as pulling your car over to watch a huge Monitor lizard crossing the road, getting your camera out as the Monkeys chase each other through the garden of your resort, watching the Sri Lankan fishermen balance as they catch the fish of the day or learning about new cultures as you watch the Buddhist Monks pray in the middle of a busy city. It is said 'To experience Sri Lanka is to experience life, to undertake a journey guided by its people who will open your eyes to their culture and share with you their heritage' and it is this very essence which makes Sri Lanka the only place for your next family holiday.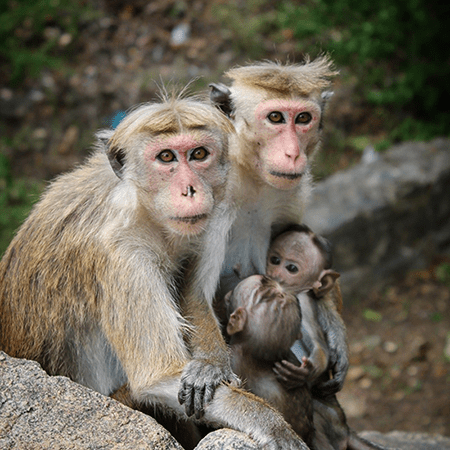 Picture by Travel Manager Lydia Ward from her own Sri Lanka Experience.
To start planning your family adventure, contact leisure@simplexitytravel.com or call 0203 535 9290.