If you missed out on the sunshine this summer, don't be alarmed! It isn't too late to fly away to the warm surroundings of a Caribbean beach, which are famously hot all year-round.
To help you choose your perfect spot, here are our choice picks for best Caribbean destination.
Dorado Beach, Puerto Rico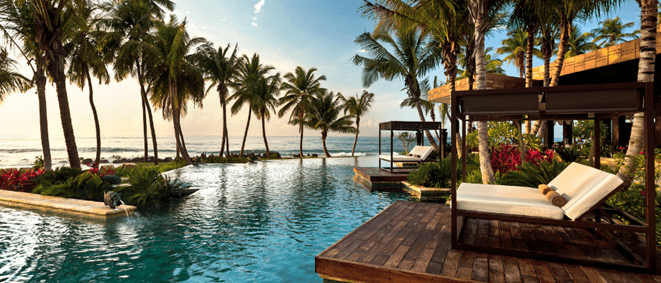 Tucked away on Puerto Rico's northern coastline, Dorado Beach blends its rich nature with a beautiful mountain backdrop and private long beaches. As one of Puerto Rico's most exclusive, secluded and luxurious resorts, it's no wonder it has been dubbed as "a world all to itself".
To experience the elegance of Dorado Beach first hand, stay at the Ritz-Carlton Reserve. Situated on 1,400 acres of former Laurance Rockefeller estate, the Ritz-Carlton Reserve incorporates a traditional yet sophisticated vibe, making it the ultimate refuge.
From nature's charms, adventure, insight and relaxation, to an open-air spa retreat and the historic 11-mile Rockefeller Trail, you are guaranteed to have a lifetime of stories from this one holiday alone.
Soufrière, Saint Lucia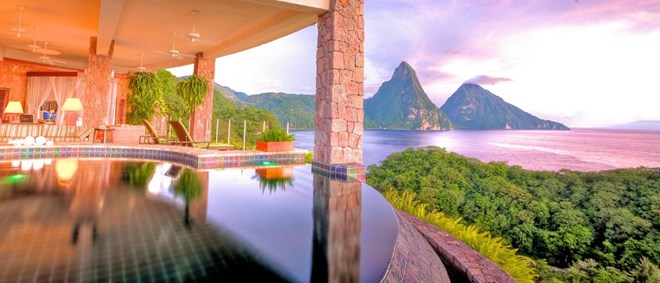 Situated on the West Coast of Saint Lucia, Soufrière has an idyllic background consisting of sea, rainforests, and the Pitons. With an English translation of 'Sulphur', it is no surprise that Soufrière's wealth is due to the hot springs and mineral baths, that constitute the definitive discovery for everybody who visits the town.
We recommend staying at Jade Mountain Resort, St. Lucia's only residence that glides above the Caribbean Sea. With an iconic view of both the Petit and Gros Piton mountains and 600 acres of tropical scenery, it is easy to see why Jade Mountain has been voted the 'Top Resort in the Caribbean' by Condè Nast readers.
There are countless activities and excursions, majestic sanctuaries and picturesque scenes to make everyone envious of your October sun-seeking vacation.
Turks & Caicos Islands

Spend your time sampling Turks & Caicos culture and its authenticity; its history, music and cuisine. Located south-east of the Bahamas, Turks & Caicos islands are blessed with the fundamentals of the perfect Caribbean getaway – white sand, turquoise waters, scuba diving and snorkeling. Even better, the weather is at its prime in October, just as the hurricane season is winding down from its September zenith.
Taking exclusivity to a new level, stay at Parrot Bay by COMO, an award-winning luxury resort, placed on its own private island. Surrounded by powdery sand, this serene and reputable resort has 1,000 pristine acres, and all guestrooms replicate the peaceful outdoors with soothing interiors, holistic therapies and yoga. The primary goal of Turks & Caicos is to be restorative and it achieves this wonderfully.
However you want to spend your luxury getaway in October, at Simplexity, we like to make every little part of your journey better. Call 0203 535 9290 or email info@simplexitytravel.com.