A safari is a child's dream come true. Nothing captures the young mind like a real-life adventure. But some adventures are still a little too dangerous for the whole family. That is why our Family Travel Managers want to share our best family-friendly safaris with you; so your young explorers can have fun, be safe and – most of all – have an unforgettable encounter with nature.
1. Madikwe Game Reserve – Jaci's Safari Lodge
Madikwe is a 750km­2 game reserve in South Africa's North West Province. The site of a successful reintroduction project, the Reserve now has a large mammal population of 10,000+, meaning the place is teeming with incredible wildlife.
Home to lions, leopards, elephants and rhino, as well as many buffalo and antelope species, Madikwe is exciting to adults and children alike. Equally as important is that Madikwe is entirely malaria free, making it a really ideal place to take children.
We recommend staying in the reserve, in the fabulous Nare Suite. Boasting a Jacuzzi, indoor toilet and swimming pool. The lodge overlooks a waterhole, so you are sure not to miss out on any wildlife action. It is able to take up to six explorers, so there is room enough for the whole family – allow us to arrange this for you.
Madikwe offers various safari experiences, from trying to spot all of Africa's 'Big Five', to a drive into the bush, which also caters specifically to the needs of photographers (of all standards). Children are welcome on each of these options, and the reserve is known for accommodating and interacting with children at all points.
2. South Luangwa National Park – Robin's House
A vast 9050km­2 national park in the heart of the Great Rift Valley, South Luangwa is an untouched treasure of African wildlife in Eastern Zambia. Elephants, buffalo, leopards, giraffe and hippo roam this basin of the great Luangwa River.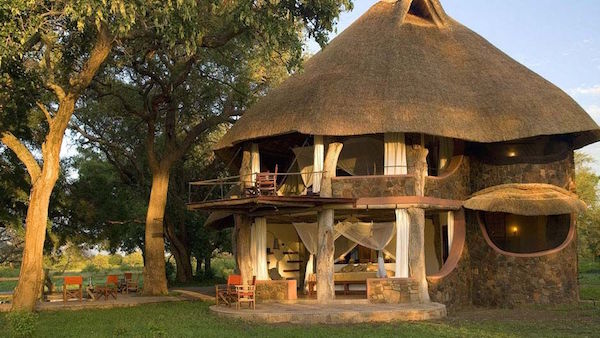 This park's biggest assets are its unspoilt nature and diverse terrain, allowing it to host a wide variety of fantastic mammal and bird species. With rivers and lakes, woodlands and plains, there is so much to explore, and Robin House is the place to see it all.
With two bedrooms, a private chef and luxury rustic aesthetic, the house is perfect for families. It is able to accommodate children of all ages. A host is provided to assist with all family activities – from baking cookies to making elephant masks.
Venture out on day or night game drives or explore the lakes and rivers on special lagoon safaris. Just as the house adapts to your family's age and needs, so too do the safaris on offer. Children's day packs, full of fun goodies and activities are available, and local guides will be eager to teach your party about conservation, animal tracking and local ecology.
3. Kruger National Park – Lukimbi Safari Lodge
Kruger is South Africa's largest national park. It is well known – and for good reason. Cheetahs, giraffes, elephants and 2,800 lions tread the Park's 19,485km2 area, guaranteeing you and your family will come face-to-face with Africa's most enchanting animals.
Lukimbi will suit slightly older families. The suite-style accommodations will give older children the independence they want, while ensuring supreme luxury and proximity to the rest of the family. The premium suites offer air-conditioning and mosquito nets to keep everyone comfortable, and a private pool decking area for relaxing.
The Park is renowned as a place to see all of the Big Five. Search for them either on foot, or by open-topped Land Rover. Younger children are also well accommodated; with a babysitting service, safari playroom and the option of taking a private vehicle on game drives. There are also a range of special children's activities, like arts and crafts and treasure hunts.
4. Phinda Private Game Reserve – Forest Lodge
Adjoining Lake St. Lucia, near South Africa's East Coast, is Phinda Game Reserve. A smaller, private reserve, Phinda is 170km2 of 'Zulu zen' and unique habitats. With seven distinct eco-systems to explore, including one of only two sand forests in the world, Phinda packs quite a punch for its size.
The Forest Lodge is a specially designed, eco-friendly accommodation, ingeniously suspended on stilts. The hand-crafted luxury lodges float between the rare sand-based forest ground and the rich canopy above. Floor-to-ceiling glass windows allow spectacular views of the forest.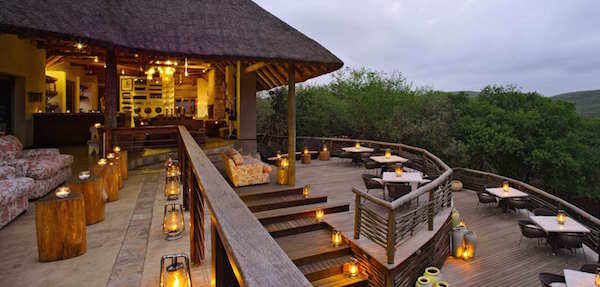 Children over 6 are permitted to go on game drive safaris, while a child-minding service is available for those younger. There are plenty of activities for the whole family, including a night spent under the famous starry skies of the darker Southern Hemisphere, hunting for giant turtles' nests on the beach and a special WildChild programme to keep children entertained.
5. Thula Thula – Exclusive Private Game Lodge
Family owned and a focus on ethical and conservation activities, Thula Thula Reserve is well-known, mainly due to its association with the bestselling book The Elephant Whisperer. At 4500ha, the reserve is home to elephants, rhinos, leopards, giraffes, crocodiles and more. Vital conservation work, including The Thula Thula Rhino Fund for the protection of black rhino in Africa, are carried out on site.
Game drives are open to children over 4, and children over 8 are able to participate fully in all activities. Book between October and June for an unforgettable whale watching experience. You can even couple this nautical experience with a horse ride across the beaches of the Indian Ocean.
The Lodges are triumph in the fusing of colonial aesthetic, bush-ready pragmatics and interior luxury. There is also the option of luxury family tented accommodation. These offer interiors as beautiful as the safari lodge, but with the added excitement of being tented in the bush. The tents combine style with rustic charm, housing hammocks and large freestanding baths.
Another reason to stay at Thula Thula is the fantastic gourmet food. A fusion of French and South African cuisine, the dishes are all created by Francoise Malby-Anthony, the owner, who also offers gourmet safari cooking classes. Safe to say, we are very impressed with Thula Thula style of luxury safari travel, and we think you will love it too.
Even better, why not bring a copy of The Elephant Whisperer with you and read about the epic life of Laurence Anthony, whist meeting some of the elephants at Thula Thula that he encountered during his life.
A safari is an experience that everyone needs to have at least once in their life, and there is no better way than to share it than with the family. If you wish to plan your own family get-away, why not speak to one of our Family Travel Managers today at info@simplexitytravel.com.