The Best Hotels in LA for E3
Planning to attend E3 in 2017? Make sure your stay runs as smoothly and hassle-free as possible, by leaving all of your travel arrangements to the experts here at Simplexity.
E3
This year's E3 Expo offers an unparalleled opportunity for networking in the gaming industry, with scores of hardware manufacturers, developers and publishers in attendance. As ever, there will be a vast array of new games, technology and products on show from leading companies and innovative indies.
Early predictions are that Nintendo will be launching some new titles for both the Switch and the 3DS, while Microsoft will be revealing more details about "Project Scorpio" and its promise to deliver 4K native gaming to consoles for the first time. Naturally though, a lot of mainstream buzz is likely to be around developments in VR.
The details
The E3 event runs for three days between June 15 and 17, at the Los Angeles Convention Center, adjacent to LA Live. With doors opening at 9am on days 2 and 3, you'll want to be based in the downtown LA area for convenience and, since the event finishes by 6pm each day, you'll also want options for unwinding in the evenings. 
Here we run through some of the best hotels in LA for E3, and the advantages for your company of letting the professional Travel Managers at Simplexity handle all the logistics for you.
Where to stay in LA for E3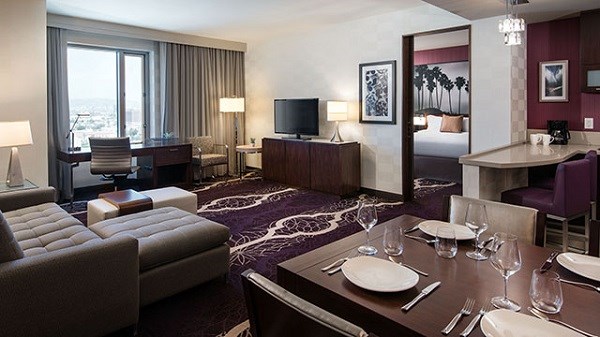 Distance to LA Convention Center: 15 minutes on foot
Uber-stylish new development inside the LA Live complex, close to major attractions like Santa Monica Beach. The hotel is composed of suites that have separate areas for working, sleeping and eating.
Amenities:
Each suite has its own fully equipped kitchen so you can prepare your own meals easily, but the hotel also offers hot breakfasts daily.
There's a fitness centre and a heated outdoor pool lined with private cabanas so you can stay fresh. In the lobby, there's a lounge and media pods for informal get-togethers, but there is also plenty of meeting space which can be hired.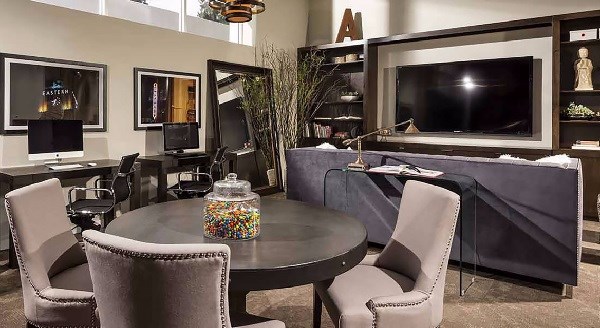 Distance LA Convention Center: 5 minutes on foot
Usually much less expensive than a standard hotel, these designer luxury apartments are fully equipped for all home comforts, and just moments from where you need to be every day.
Amenities: 
Each apartment has a 55" big screen TV for late-night gaming and movies, with air-conditioning, fridge and complimentary coffee – always a big bonus! All guests in the suites have access to a gym and a pool, and there is also secure parking in case you're driving.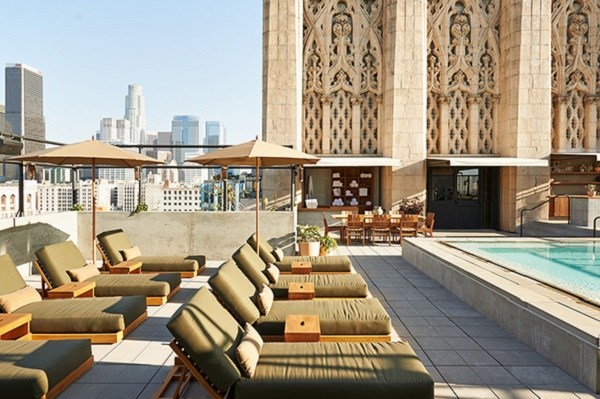 Distance to LA Convention Center: 5 minutes by cab
This hotel is situated in the historic United Artists building, which was put up in 1927. Stay here and get infused with the glamour of old Hollywood and the prestige of a maverick film studio.
Amenities:
Every loft and suite here has a kitchenette, and you can also request a room with a private terrace. In the evenings, can kickback with poolside dining, chill in a stylish cocktail lounge, or work out in the well-equipped fitness centre.
Distance to LA Convention Center: 5 minutes by cab
By the time of E3, this hotel will only just have opened, with stylish, bright studios, loft apartments and suites available. Plenty of little luxuries are offered, from enhanced bedding (we're guessing this is more than just an extra blanket) and valet service.
Amenities: 
Besides being within easy walking distance of many good restaurants and bars, the hotel has its own cool rooftop pool and cocktail bar, which is perfect for entertaining.
There's also a dedicated tea bar, a speciality coffee lounge, and regular curated events.
Why use Simplexity for your E3 Travel Arrangements?
We make the complex simple.
If you're exhibiting at E3, or you have a lot that you need to see while you're there, then you want to be focusing your attention on planning, rather than worrying about where you're going to stay.
Our expert Travel Managers can professionally handle every aspect of your trip, including:
Hotel bookings that incorporate any special requests you may have
Dinner reservations
Entertainment options
Hire of meeting facilities
All your transport needs such as airport transfers, or safely moving valuable equipment
In fact, whatever you need, our comprehensive 24/7 service ensures complete peace of mind.
So, with no need to sweat the small stuff you can concentrate on what's really important, making the most of your time at E3 and in Los Angeles.