The Most Exclusive Ways to Travel the World
We all enjoy a little taste of luxury now and again in life, and there's no better time for it than when we're on holiday. That could be a weekend getting thoroughly spoilt in a tranquil spa retreat or making the upgrade to first class on a transatlantic flight. 
But for some, such indulgences aren't nearly enough – they like to take it to the extreme. Below we've put together some of the most exclusive ways of travelling the world. Pin a few of these to your bucket list and ask your Travel Manager about arranging travel by these means for your next holiday.
The Royal Scotsman
Train travel in the UK gets some criticism, much of it fully justified! But the Belmond Royal Scotsman is a world apart. This is quite possibly the world's most sumptuous train, accommodating just 36 guests in private cabins spread over five state cars. There are two mahogany-panelled dining carriages serving world-class cuisine accompanied by fine wines and Scottish malt whiskies from the on-board cellar. Perhaps the highlight of any journey on the Scotsman though is relaxing in the exquisite Observation Car to take in the atmospheric scenery of the Scottish Highlands as it rolls gently past, from crystal-clear lochs to ancient castles and wooded glens.
The Crystal Serenity
Luxury cruises are of course no rarity – there are many people who want to explore the world by sea, while avoiding some of the crasser aspects of modern cruising. The Serenity, owned and operated by Crystal Cruises, is regularly voted the best cruise ship in the world, and believe us, there is some intense competition out there. The Crystal takes regular journeys from New Orleans to Miami, Buenos Aires to Rio de Janeiro, and around Mexico, but one of the most memorable is through the stunning Northwest Passage, crossing the Canadian Arctic Archipelago. Penthouse suites on the Crystal have dining areas with ocean views, spa flotation tubs, private verandas and, naturally, a personal butler service.
Motor Yacht Azzam
The Azzam is the world's largest Super Yacht, and the most expensive. Said to be owned by Khalifa bin Zayed Al Nahyan, the billionaire President of the United Arab Emirates, the Azzam is 180m long, and can reach speeds of up to 30 knots. It doesn't need to move fast though because this yacht is virtually a floating fortress. The Azzam is thought to have a bulletproof, armour-plated master bedroom, as well as its own missile defence system! 
When not anxiously scanning the radar for incoming threats, passengers can chill in two swimming pools, a cinema or the disco. As for reaching the yacht when it's moored off the coast, there are two helipads, as well as a mini submarine, of course. It's unknown if the yacht is available for charter, but if it is, you can bet that the price is pretty steep – annual running costs are estimated at a cool $60 million.
Boeing Business Jet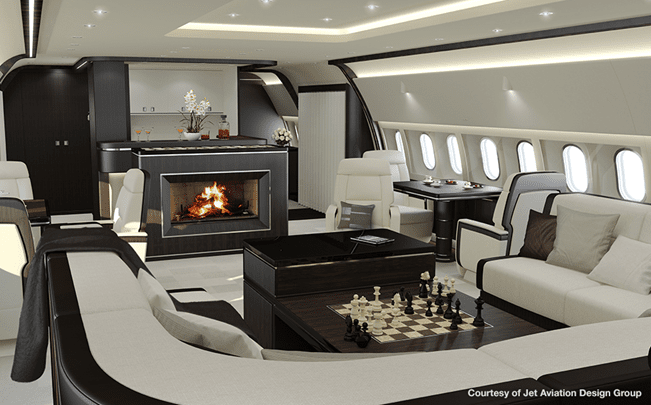 From floating fortresses to flying mansions, Kestrel Aviation Management have recently fitted out the first private Boeing 787 Dreamliner. Usually these massive planes seat up to 330 passengers but this one, now owned by an Asian company, is built for just 40. The specs are, as you might expect, drool worthy. All the tech, from the lighting to the audio, the window shades to the video monitors, is operated through individual tablets. Five bathrooms include an en suite for the master bedroom with its own shower, while the accoutrements in the main cabin would put Air Force One to shame.
Vantare Platinum Plus Motorcoach
Step inside the world's most expensive, and most elite motorhome. This RV is more comfortable than most millionaire mansions, a decadent fantasy laid out bedecked with Swarovski crystal, Italian leather, Inca marble and antique bronze. The master bedroom has a retracting plasma TV and a built-in treadmill, while the gas tank is so large it costs up to $1000 to fill it. But the most incredible thing about this four-wheeled palace is that beneath the living compartment there is a slide-out parking garage. Yes, you read that right, a slide-out parking garage – so you can take your sports car along with you. 
Simplexity Travel's Travel Managers know our clients desire the finer things in life, and we're fully set up to deliver them: whatever your request, we'll find a solution.
Find out how we can arrange the ultimate travel arrangements on your behalf.