The US has more than its fair share of natural wonders. Some are iconic and famous, whereas others might surprise even some Americans. From stunning beauty to scientific intrigue, here are the seven natural wonders of the United States of America.
1. Barringer Crater
The Barringer Crater is a stunning, abrupt, 170m deep hole in the Arizona desert floor. At 1.2km across, this huge crater worthy of note both as an incredible act of nature and a scientific point of interest.
After miles of flat desert, coming to the lip of this 50,000 year old crater is an incredible experience of nature's extreme destructive forces. But the story behind the crater would impress any science fan. It was critical in establishing the theory that meteorites collide with the Earth, with the result being huge impact craters.
2. Niagara Falls
These world-famous waterfalls at the border between New York state and Canada's Ontario province are among the most beautiful in the world. Actually made up of three separate falls, Niagara is a very popular tourist destination.
This is also a notoriously romantic spot, with weddings and proposals every day of the year. To see the falls in classic American style, stay at The Giacomo, a 5-star Art Deco masterpiece. With a casino, excellent restaurants and beautiful façade, this is the quintessential American hotel. They also do their own special tours of the waterfalls.
3. Grand Canyon

The Grand Canyon is one of the world's most striking landmarks. Up to 18 miles wide, 800 meters deep and running for 277 miles, this is a canyon on an awe-striking scale.
Also in Arizona, the Grand Canyon has been inhabited by the native Pueblo people for thousands of years. It is thought to have been made by glacial forces from the ice ages past, as well as erosion and continental drift.
4. Redwood National Park
On California's Pacific Coast is Redwood National Park, home to the legendary redwood forest. Here are the largest trees on Earth. The coast redwoods grow up to 115 meters tall.
Why not incorporate this natural wonder into an East Coast road trip? We've already planned one for you here. And it features the next natural wonder as well…
5. The Big Sur
The Big Sur is a famous stretch of coastal land in Southern California. Lying South of Monterey. Its rugged, untouched beauty, mixed with the unique ambience of the vast Pacific make it a truly special place.
Stay in the Post Ranch Inn during your visit. It has a great view balcony view of the Ocean but also makes a great base for driving excursion out into the wilderness – excursions we highly recommend you make!
6. Mammoth Cave
Compared to the other natural wonders on this list, Mammoth Cave is relatively unknown, but it is an incredible place to visit, and just as breath-taking as the others.
This vast subterranean cave is actually a cave system with many caverns and surprises. The largest cave system in the world, Mammoth Cave lies in Kentucky, between Louisville and Nashville. It is now surrounded by its own national park.
7. Old Faithful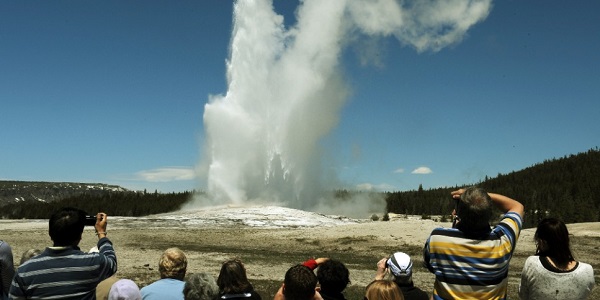 One of America's most endearing natural wonders, Old Faithful is a famous geyser, notable for its remarkable regularity. It is a star attraction of the great Yellowstone National Park.
Like the Barringer Crater, Old Faithful has historic as well as scientific appeal. Famous explorer N. P. Langford called it the "perfect geyser", and was even used to wash clothes, which were stuffed dirty into the aperture before being blasted out clean minutes later on a jet of boiling water.
To open up the wonders of America, contact one of our experienced, friendly Travel Managers on 0203 535 9290 or email us at info@simplexitytravel.com. We will be delighted to help you plan your American adventure.