With people jetting off all over the world, it can be easy to forget the UK's own treasures. Away from busy urban locations, English country cottages and Scottish fishing villages attract thousands of holiday makers every year. If these rural retreats have piqued your attention, read on for the UK's most beautiful villages.
1. Pittenweem, Fife

Pittenweem is the archetypal Scottish fishing village. With an active harbour, typical East Neuk architecture and friendly people, Pittenweem is the secluded Scottish rural retreat you've always dreamt of. Our Travel Managers recommend a stay at the Fairmont Hotel, one of Fife's most prestigious hotels with exceptional access to St Andrew's famous three golf courses.
2. Lacock, Wilshire

Famously well-preserved and sheltered from modern life, much of Lackock's property is under the protection of the National Trust. That includes the beautiful Lackock Abbey, miraculously untouched and protected from the ravaging hand of the Tudor dissolution, it remains one of the village's star attractions.
3. Polperro, Cornwall

A stunning little seaside village on the south coast of Cornwall, Polperro overlooks a sheltered little cove of the English Channel. Great for summer holidays, this popular destination is full of English country cottages. For the best beds in town, let your Simplexity Travel Managers book your family's stay at Seaways and Tycara which has incredible views of the channel and a charming balcony area.
4. Portmereiron, Wales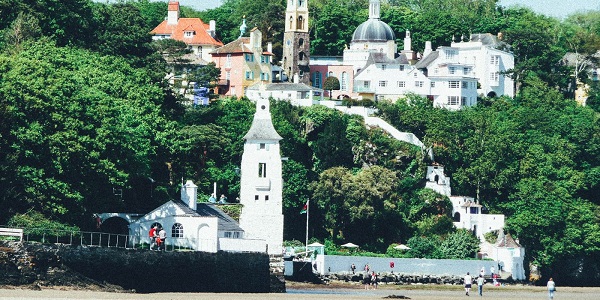 If you get the feeling that Portmeirion is uncannily pretty, then congratulations! You are onto the fact that this quaint Welsh 'village' was built over 50 years in the mid-20th century in the style of an Italian Riviera village. Although it can be strange to see a central plaza in a Welsh seaside village, the effect is decidedly beautiful. This uncanny tranquillity made Portmeirion the perfect place to shoot cult '70s TV show The Prisoner.
5. Plockton, Scotland

Plockton is a remote village on the coast of North-Western Scotland famous for its strangely mild climate amid the rough islands and battered highlands. Out across Loch Carron, there are reliable dolphin sightings and stunning views for the willing explorer. It is a short walk to Duncraig Castle, a sterling example of Scottish Baronial grandeur. To skip the walk, let your Travel Manager book your room: this former mansion is now a luxury B&B.
6. Cushendun, Northern Ireland

This tiny village in County Antrim is the most picturesque place on the Causeway Coast, home to the famous Giant's Causeway. The rugged coastline on the Irish Sea gives way to a more pastoral landscape around Cushendun, known for its excellent shoreline caves and beautiful bridge over the Glendun River.
To have an incredible escape to the country at any of these locations or more, just get in touch with our London Travel Managers today on 0203 535 9290, or email info@simplexitytravel.com