The feeling of stepping on board a luxury cruise ship is like no other. Our Leisure Travel Managers knows that from the moment you step on deck and are handed a flute of champagne, you will be experience nothing but exquisite luxury.
While your cruise's destination is a defining part of what makes your experience memorable, your cruise ship's suite is where you will be resting your head at night and waking up each morning. As a discerning traveller, you should only expect the very best, so here are some of the finest in the world to help you set your expectations.
1. Owners Suites – Silversea Cruises' Silver Spirit
Silversea Cruises' latest ship, Silver Spirit is the largest in their fleet, with expanded amenities and incredible new dining and entertainment experiences. From the moment you step on board, you will be pampered, and the Owners Suite is a marvel of luxurious simplicity.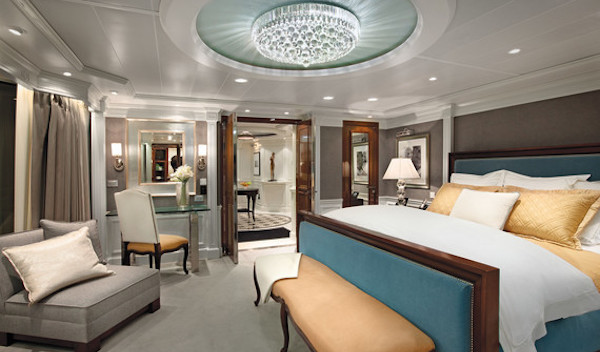 Choose from a one or two-room suite, each with a large teak veranda, with patio furniture and floor-to-ceiling glass doors, enabling you to watch the outside world go by in total comfort. With a distinctive marbled bathroom, walk-in wardrobe, Pratesi fine bed linins and down duvet covers, there will never be a moment where you don't feel special.
Technology should not be a problem either – thanks to your Bang & Olufsen sound system, Illy Espresso machine and brand new TV, you have all of life's little luxuries at your fingertips. Finish your day with dinner for two in Le Champagne, and of course, there are delicious canapés upon request each afternoon. In the Owners Suite, you really are the captain of the ship.
2. Penthouse Suite – Solstice-Class Ships
Offering a space as lavish – and perhaps even larger than – some staterooms, the Penthouse suites offered on the Eclipse, Equinox, Reflection, Silhouette and Solstice cruise ships by Celebrity Cruises are glorious. Your very own 398 sq ft veranda comes with your 1,291 sq ft penthouse. These beautifully designed spaces come equipped with everything you could ever want, and your own personal butler will guarantee you have everything you ever need, whenever you desire it.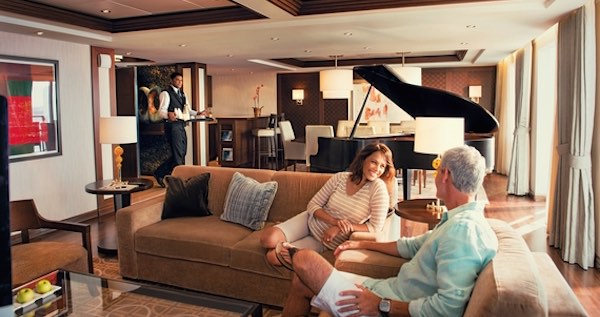 From your 52-inch TV with surround sound, to the grand piano, when you are not enjoying the various destinations your cruise takes you to, you will be entertained 24 hours a day.
When you are ready to relax, your whirlpool tub is waiting for you in the luxurious marble bathroom, helping you to unwind after a perfect day.
Owners Suite – Oceania Cruises' Marina and Riviera
Whether you decide to voyage on the Marina or the Riviera, allow our Leisure Travel Manager to arrange your stay in the Owners Suite. Size counts, of course, and your suite will measure a massive 2,000 sq ft – large enough to satisfy all your needs. With furnishings from Ralph Lauren Home, you will not be disappointed by the level of attention to detail and quality provided to you.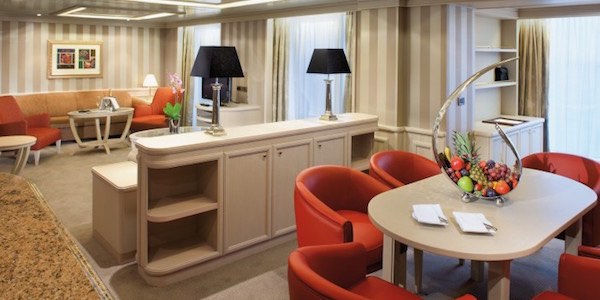 With a huge living room, separate dining room and bedroom with king-sized bed, a music room with an ebony grand piano and a media room with a professional entertainment system, you have everything you will ever need to make your cruise pleasurable. As well as a 24-hour butler to attend to your every need. Our Leisure Travel Managers recommend you take advantage of the course-by-course, in-suite meal delivery that allows you to order from any of the numerous distinguished restaurants on-board.
These are just a small number of the exquisite suites available on the cruise ships of the world. Of course, ultimate luxury comes when you have the power to define your own experience, and here at Simplexity, Mark Smith manages our chartered boat trips, providing you with the ultimate refined cruise experience centred around you and your every need. If you would like to speak with our travel managers about your requirements for your next cruise, call us today on 0203 535 9290, or email us on info@simplexitytravel.com.