For our first Hotel of the Month we are delighted to spotlight The Mayfair Townhouse.  Opening on 2nd November, the property delivers the unexpected and redefines what it means to be a London hotel. Part of Iconic Luxury Hotels, this is the fifth hotel in their portfolio, which includes Cliveden House in Berkshire and Chewton Glen in the New Forest.
Located on Half Moon Street, one of London's most distinguished neighbourhoods, The Mayfair Townhouse is a carefully stylish, imaginative home for the modern traveller. Without the traditions of a regular hotel, there is no room at the Townhouse that has not been thoughtfully curated; moments of history and culture are immersed throughout its 15 connected Georgian buildings.
Dandy is the cornerstone theme and design language of The Mayfair Townhouse. Building on the historic connections with Oscar Wilde, Half Moon Street and the dandy lifestyle association with Mayfair, interiors have been revived bringing to life the Georgian spirit and blending this with a contemporary rhythm.
The aptly named Dandy Bar is the heart and soul of the Townhouse, a refuge from the bustling streets of Mayfair where velvet jacketed mixologists create bespoke cocktails including an avant-garde take on the classic Dandy cocktail, once enjoyed by hedonists of the area, or AR Lenoble Brut Champagne, Oscar Wilde's favourite.
Flavours of whimsy yet practicality make their way through the Townhouse's individually designed guest rooms and suites. From the functional Classic Rooms, to the indoor-outdoor living themed Garden Suites, to the Dandy muse 'Penthouses Suites', every corner has been thoughtfully designed to appeal to what the discerning modern traveller is seeking today.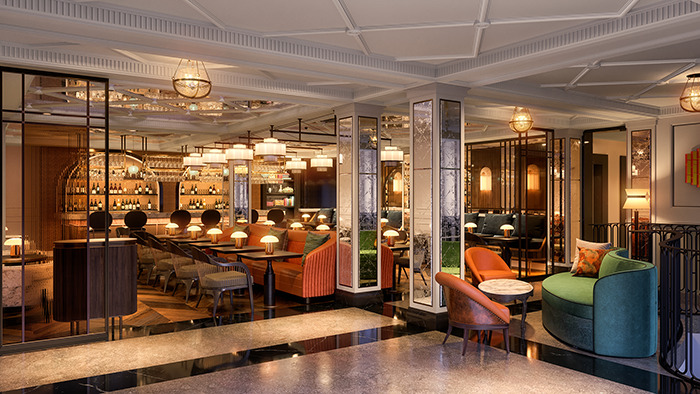 Expect to find the highest quality linens and robes, superb bathrooms, luxury mattresses, his-or-her toiletries, good lighting and intelligent use of space together with little touches that reflect the hotel's quick-witted personality.
With no traditional restaurant at The Mayfair Townhouse, you are invited to the Lower Ground floor – a vibrant space for the modern nomad traveller. This is a place to work, explore and connect with the personalities of the time, whilst enjoying breakfast. Beyond these walls lies a further dining room, which can be used for private dining or a 'meeting of the minds' gathering place.
Always at your service at The Mayfair Townhouse is Les Clefs d'Or (The Golden Keys) concierge. Alongside securing reservations at the hottest restaurants and bars in Mayfair, of which there are plenty, they ensure every guest departs having discovered a hidden gem.
The Mayfair Townhouse is where you will find both luxury and the joy of the unexpected. Guests come for the exceptional service and inspiring atmosphere and leave with a renewed confidence that choosing personality over conformity is always worth it.
The Mayfair Townhouse, 27-41 Half Moon Street, London W1J 7BG
For further details please contact one of our Travel Managers on 0203 535 9290.