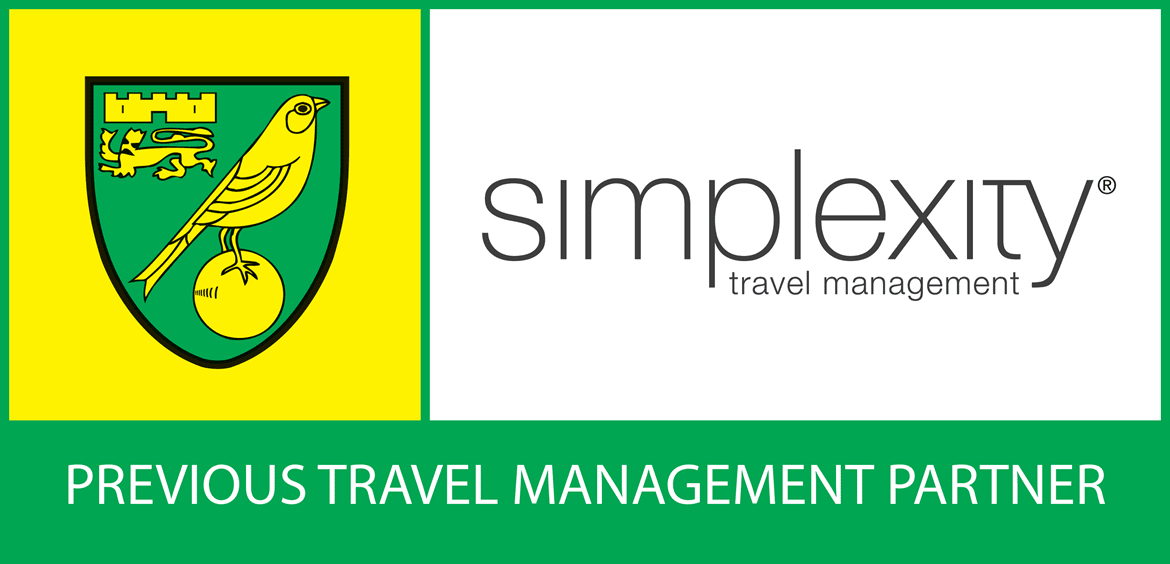 "The service I have received from Simplexity has always been great…. They will go out of their way to arrange things that cater specifically for what is required. Their friendly, polite manner makes it very easy to communicate and book whatever is needed and I always feel assured that the work they have done will ensure a stress free trip, wherever it may be. I have always been very happy and appreciative of the work that they do." Daniella, Norwich Football Club.
In the summer of 2016 Norwich City Football Club formed an agreement with Simplexity Travel Management that would see Simplexity provide the club with full travel and accommodation services for all club members. This includes first team and academy players, scouts, executives and locker room staff. The new relationship began with the Canaries' pre-season tour of Austria, which included first team friendly matches on the 20th and 23rd July. Ben Kensell, Norwich City Football Club's Commercial Director, commented
"Simplexity Travel has worked with Chelsea and is therefore familiar with the intense demands of the football industry. This is an excellent deal covering a vital part of our business and we are delighted to have Simplexity Travel as part of our partnership portfolio".
Norwich City FC, like most professional teams, spend a great deal of time and money arranging travel both domestically and internationally for business meetings, games and scouting. It is not an easy task moving whole squads from location to location on a regular basis especially when one eye is constantly looking at the overall cost. Simplexity are specialists in logistics and travel services for large groups of people and complex business trips and were able to offer Norwich City FC a proposition that would focus on: 
Saving time
Saving money
Agile service catering for last minute changes
Creative solutions
Cover all aspects of travel and accommodation 
Understanding Norwich City FC and getting under the surface of the club's culture and ethics was our first task. Simplexity always offer a personal service and working with such a large club was no different. This personal service started with the allocation of an account manager, whose job is to work as an extension of the club making themselves a familiar face to members of staff and for the account manager to get to know peoples travel patterns. Many hours have been saved as we understand the methods in which individuals within the club like to travel or the type of hotels they like to stay in, even down to how many hours' people like to arrive before a meeting to prepare themselves. 
When looking after the travel arrangements for a such a high profile team such as Norwich City FC it is vital that Simplexity were able to extend our 24hour emergency contact service to them. This service allows Norwich City FC to contact us at any time (365 days a year) to amend travel arrangements as quickly as a phone call or sending a text. This can include amending flights when travellers are stuck in traffic or running late, to booking last minute accommodation when the weather turns for the worst. This emergency number gives complete piece of mind to everyone at the club insuring that they will never be stuck without a hotel, a transfer or flight at any time. We are always on hand to get club members to where they need to go. 
For many of our clients Time and Money go hand in hand with one another; this is no different with Norwich City FC. In fact, it was difficult to gauge an accurate cost of time which was previously being spent organising travel arrangements for the club prior to working with Simplexity. What was known is that the time spent trying to make these regular and complex arrangements could be better spent focusing on the teams' improving progress in the Championship league.
Researching hotels that can cater for the teams specific needs (including diet, room sizes, room locations, hotel accessibility and hotel security), negotiating preferred rates for a hotel, transport between hotel and training ground/away stadiums, or flight bookings for the whole team were taking large amounts of time from individuals that did not have the tools or the knowledge to research thoroughly. Straight away Simplexity were able to extend our professional benefits to the club, using our buying power to negotiate preferred hotel rates and providing agency rates for all travel needs.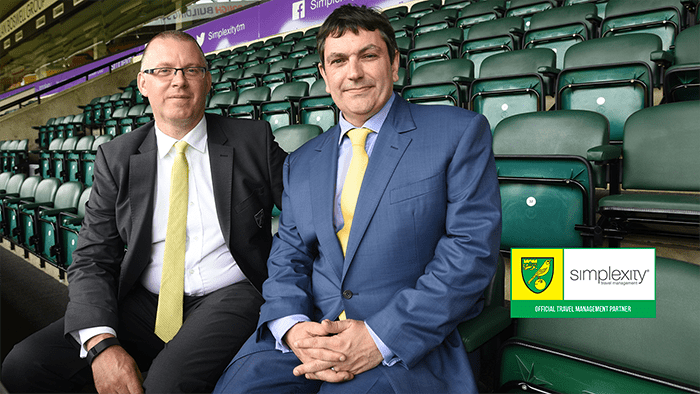 Above all Simplexity offer Norwich City FC something that most travel management companies seem to struggle with – and that is complete transparency of cost. There are no hidden charges, just a flat rate for our services that are clear, pre-agreed and offer an exceptional amount of value for the club allowing them to measure relevant savings in a very clear reporting process. Simplexity are always on the lookout for the most cost effective solution giving Norwich a variety of travel options allowing them to choose the best for their needs. In many cases we can give a full itinerary for a particular trip within a limited time frame, where the same trip may have taken a small in house team a full day to put together.  
More importantly we also go the extra mile preparing detailed itineraries that make the travellers lives easier. This can include local public transport information from buses to trains in European cities, or knowledge of local events taking place that may affect their travel or stay.